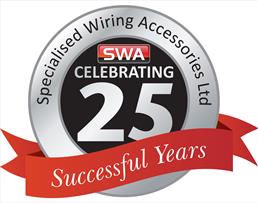 SWA CELEBTRATES ITS 25th ANNIVERSARY
The story of SWA is quite remarkable. Over a period of 25 years SWA Directors Garry Ray and Brian Hands, has taken a humble portable cabin office and store and transformed it into one of the most successful electrical termination, fastenings and tools companies in the UK.
1988 saw the birth of the business - "Our motto in those days was to give customers top quality, top service and best prices, three values that we kept throughout the past 25 years." Garry Ray explains.
SWA today employs over 60 people, many of whom have been with the company since its inception providing unparalleled knowledge and experience. Handling over 8,000 product lines from its 50,000+ sq ft warehouse, bringing value for money products to its 4,000+ customers.
SWA has always been committed to providing quality products, a point recognised by its ISO9001, ISO14001 and OHSAS18001 accreditations.
The company is the UK distributor of Unior Tools, Cellpack cable joints, Pressmaster tools and the popular Taurus™ gland pack range which includes EarthingNut™ the Electrical Industry's National Award Winning product.
Brain Hands say: "We strongly believe in teamwork which is the key to our continued success and we want to thank our staff for joining us on this exciting journey, and the 'Best is yet to come'"